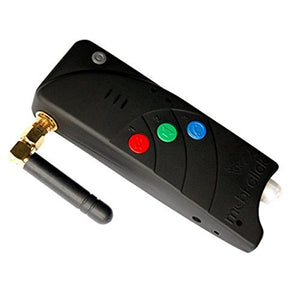 Mobi-Click Deutschland
Compact 2P + A - mobile GSM alarm system
Sale price Price $487.00 Regular price
Tax included.
Compact 2 P + A1 - for monitoring vehicles, buildings and objects of all kinds
With the very compact and mobile GSM alarm device Compact 2 you can reliably monitor and secure vehicles, boats, premises, machines and vending machines. As soon as the alarm device registers unusual movements, vibrations or noises, the Compact 2 P + A1 alerts you to up to six telephone numbers in the form of calls and / or alarm SMS. No matter where you are - you don't lose any time and you can call the police immediately before the thief notices anything.
The Compact 2 P + A has motion, vibration and noise sensors which you can freely combine and adjust the sensitivity especially to the monitoring requirements. You can also connect additional sensors via the external connection and control them remotely via the Compact 2 P + A.
Proven device
The Compact 2 P + A has been in use for years. With the combination of the various sensors and the immediate alarm via mobile radio, the Compact 2 P + A has proven itself as a so-called "thief trap". It is crucial to catch and capture the thieves and scammers in the act.
The extra protection
Many security stores and security service providers already rely on the additional protection against burglars and thieves that the Compact 2 P + A offers. Upon written request, we will be happy to provide reference addresses.
Operation manual: