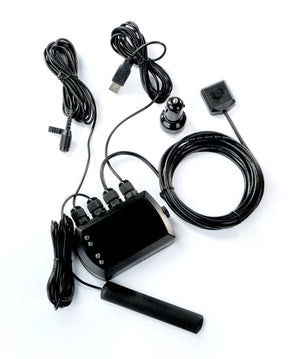 Mobi-Click Deutschland
Car alarm system A-236 with GPS live location portal
Sale price Price $201.00 Regular price
Tax included.
The A 236 is more than just a simple car alarm system. This product gives you access to an Internet portal in which the current GPS position and GPS history can be called up and tracked. The highlight of this system is the immediate alerting of the car owner via SMS or phone call.

Thanks to the GSM functionality, the vehicle can report alarm messages and position data worldwide - where there is GPS reception. In addition, GPS areas can be specified in which the vehicle is allowed to stay and move. The standard alarm system features include: vibration sensor (3D), motion sensor, noise sensor and a powerful battery of 6000 mAh.
The alarm system can be configured via SMS.
Power connection via cigarette lighter.      
Execution:

We also offer you a modern GPS tracking system and user-friendly web portal free of charge, in which all functions are self-explanatory.
- Live location in real time
- Complete storage of the distances covered
- Presentation of the relevant vehicle data: location, travel times, lane, speed
Notification by SMS / call

If your vehicle is broken into, you will be alerted immediately by SMS on your mobile phone or smartphone. As soon as the stationary vehicle is jolted unusually or starts moving, it will immediately send you an SMS or call you.
Shock sensors
The A-236 has a GSM module and precise shock sensors for this purpose. In this way, not a single valuable second is lost between the intrusion and the alarm - regardless of where you are.
Worldwide location - anytime
 The built-in GPS receiver of the A-236 enables your (stolen) vehicle to be located anywhere in the world. You can actively contribute to the location of your vehicle by providing the police with the location data.
Listening function
The A-136 allows you to listen to the passenger compartment live using the microphone supplied. In this way, you can check whether there has been a false alarm or whether the thief has disclosed important information about his evacuation.
Live tracking in the event of theft
Continuous position determination
In the event of your vehicle being stolen, you can have your position data sent to you continuously. The result is a real-time movement profile of the stolen vehicle.
Emergency services
With the help of map and route planner services such as Google Maps or OpenStreetMap.org, you can display the positions on your smartphone (or PC) using the coordinates received on the map or have a web link sent.
execution
Live transmission of an alarm message to up to 6 telephone numbers or SMS
Shock sensor (Accelerometer 3D) for parking bumps or removal

 

Monitoring of doors and trunk

 

Noise sensor interior monitoring, doors and windows

 

Various settings can be programmed

 

Easy installation

 

Standby time between 5-6 days with the internal battery

 

Vibration sensor (accelerometer) interior monitoring

 

Noise sensor (triggers an alarm if someone tamperes with the car)

 

4 status LEDs for GPS, GSM, accelerometer, battery
Location determination
External GPS receiver (wired) with high sensitivity
Undervoltage monitoring  
scope of delivery
Car alarm system A-236
operation manual
Hints
An activated SIM card is required for operation (prepaid / contract).