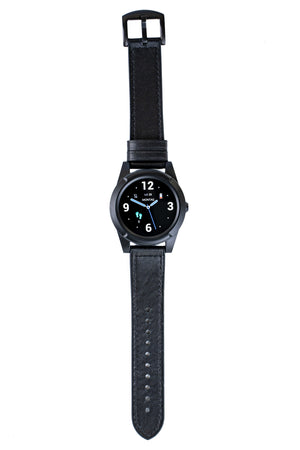 Mobi-Click Deutschland
LifeWatch - smart PNA emergency call watch for lone workers
Sale price Price $462.00 Regular price
Tax included.
Your ultimate lone work protection with a dead man's switch on your wrist!
Offer your employees the opportunity to benefit from our intelligent and adaptable Emergency watch benefit from a solution that effortlessly adapts to the individual safety requirements of your lone workers.
Thanks to the built-in Alarm functions ensure quick help in emergency situations. With our versatile emergency call system you can now feel safer and protect your employees.
1. Activate the clock: All you need is an active Nano SIM card. Insert the SIM card by removing the watch band and pulling the SIM card slot out of the watch. Turn off the watch and press the power button for about 3 seconds to turn it on.
2. Charge the watch: Place the watch on the charging station and you will receive instant information about the charging status.
3. Program your contacts: You can save up to 10 phone numbers to be notified in the event of an alarm. You can even make calls from the watch.
4. Activate the SOS alarm: The Mobi Lifewatch features an SOS button that gives you instant access to help in emergencies. Simply press the side button for 3 seconds or tap the touchscreen to trigger the alarm. Depending on the configuration, the watch sends an SMS or establishes a voice connection to your emergency contacts.
5. Integrated alarm sensors including dead man function: This watch offers more than just an emergency call button. It detects immobility, falls and tilt angles and alerts you accordingly. You can also set reminder alarms so you don't forget important appointments or medication.
6. Location determination via GPS and iBeacon: The Mobi-Click smart watch has GPS tracking for outdoor use and can also be tracked indoors thanks to Bluetooth and iBeacon. You even get a link to Google Maps when the watch is outside a building.
7. Waterproof and Durable: This watch is IPX 8 waterproof, so you can wear it while showering with confidence.
8. No Monthly Fees: There are no recurring subscription or service fees with the Mobi-Click smart watch. It is a cost-effective one-off purchase.
9. Ideal for lone workers: This watch is practical for anyone who works alone and wants to feel safer, especially in potentially dangerous situations.
The Mobi-Click LifeWatch offers you comprehensive protection and is yours reliable companion for protecting people working alone. 


What does Mobi Livewatch cover:
The SOS button is an emergency call button with hands-free function at the push of a button
Automatic, independent alarm when there is no movement
Practical acknowledgment of the pre-alarm by pressing a button
Optimal communication when worn on the wrist
Regular status reports at self-determined times
Reliable outdoor tracking using GPS
Indoor location possible using an iBeacon
Affordable one-time purchase costs, no recurring subscription or service fees
Practical for lone workers who are attacked or threatened