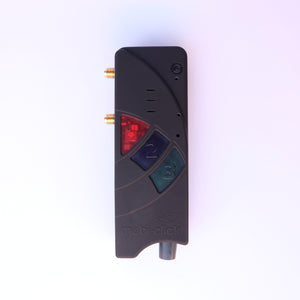 Mobi-Click Deutschland
Compact 4P + A - mobile GSM alarm system
Sale price Price $548.00 Regular price
Tax included.
Compact 4 P + A - for monitoring vehicles, buildings and objects of all kinds
Infrared sensor for motion monitoring
Shock sensor
Sound sensor (microphone)
Temperature sensor
GPS position
Additional battery pack
Connection for external sensors, e.g. Door contact, smoke alarm etc.
With the very compact and mobile GSM alarm device Compact 4 you can reliably monitor and secure vehicles, boats, premises, machines and vending machines. As soon as the alarm device registers unusual movements, vibrations or noises, the Compact 4 P + A alerts you to up to six telephone numbers in the form of calls and / or alarm SMS. No matter where you are - you don't lose any time and you can call the police immediately before the thief notices anything.
The Compact 4 P + A has motion, vibration and noise sensors which you can freely combine and adapt the sensitivity especially to the monitoring requirements. You can also connect additional sensors via the external connection and control them remotely via the Compact 4 P + A.
Protects against burglary, theft and vandalism
 External GPS antenna, remote control and Compact 4P + A (optional accessories)
Configuration via computer
Configuration via smartphone (only Android smartphones)
Proven alarm system
The mobile GSM alarm system Compact 4P + A is used reliably to secure objects of all kinds.
The Compact 4P + A has been adapted and optimized based on the new findings of police work in long cooperation with various state criminal police offices.
Fastest possible alarm
The combination of sensitive motion sensor, shock sensor and noise sensor, together with an immediate alarm notification via cellular network, enables action to be taken without delay.
A monitoring period can be specified via an internal, programmable timer.
Inconspicuous helper to the police
With its extremely compact size, the Compact 4P + A can be placed inconspicuously and sends an alarm to up to six telephone numbers in the event of movements within a radius of 6 meters, changes in position or noises. In this way it is possible, with the help of the police, to catch the thieves while the crime is still in progress.
The new Compact 4P + A device differs from the current Compact 2P + A in the following points:
It has a different housing, is rubberized and has the dimensions 116 mm x 42 mm x 21 mm (L x W x H). This enabled us to use a larger battery of 1100mAh (almost twice the battery capacity).
The device-internal PIR sensor is now more anthracite-colored.
The previous mechanical shock sensor has been replaced by a 3D acceleration sensor.
The GSM antenna built into the device has been improved. Instead of this antenna, a magnetic base antenna can optionally be connected
The new device has a GPS receiver to make a location difficult
To enable reception conditions. There is an SMA connection
so that the supplied antenna can be connected with a 3 meter cable.
Programming is now carried out via the USB input and PC (computer) or via SMS
The software has been improved so that a battery pack e.g. of 10000mAh can be connected, see accessories.
The device can be activated and deactivated with a remote control that is included in the delivery. Up to 7 remote controls can be connected or reprogrammed.
Of course, an external PIR sensor with a 2 meter cable can also be used as
before be connected
A radio siren, a wire siren, a battery pack, an external PIR sensor or a commander can be connected via the socket.
As before, further motion sensors, door and window contacts and sirens can be connected via a commander.
The remaining functions were taken over or retained by the Compact 2P + A.
Operation manual:
Compact 4P + A