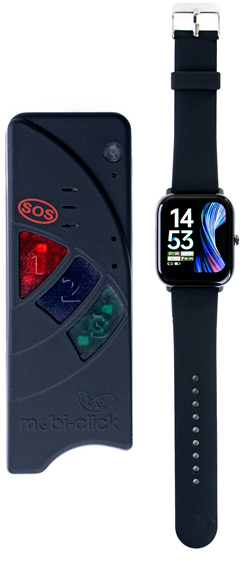 Mobi-Click Deutschland
Senior Tel 2 / Senior Tel 2 Plus (GPS)
Sale price Price $225.00 Regular price
Tax included.
Senior-Tel 2 with temperature sensor (ST 102-1) - Telephone for seniors
3-button device including smartwatch, intended for the following groups of people:
Seniors
People with disabilities
Patients - people who are exposed to hazards
Easy direct phone connection at the push of a button
The Senior-Tel 2 enables people with significant age restrictions or restrictions due to a disability to communicate with relatives or carers at the touch of a button. Under each of the three buttons you can program a telephone number each time, to which the user can call directly by pressing a button.
Whether you need to quickly contact someone in a difficult situation or just want to call someone, Senior Tel 2 makes the connection easy.
Automatic answering of calls
If the user cannot answer the call himself, the device will automatically answer the incoming call after two rings.
Measurement of body temperature
The user wears a watch on his wrist that measures body temperature. You can set a threshold temperature (e.g. 38 degrees C). If the threshold temperature is exceeded, the device sends an SMS alarm to the stored phone number. In addition, the caregiver has the opportunity to check the current body temperature via SMS - in response to this, he will receive an SMS with the current body temperature.
Features:
Possibility of programming up to 3 different phone numbers
Quickly dial a phone number with the press of a button
Standalone or auto-answer calls in speakerphone mode
Wireless or inductive charging of the device
Instant body temperature, blood oxygen, heart rate, sleep tracking and pedometer
Variant Senior Tel 2 Plus with GPS (ST 102-2)
The Senior Tel 2 Plus also has a GPS module for outdoor location. The wearer of the device can be located at any time when working in the garden or walking via GPS MAP.

The phone does not have SIM LOCK - works on any GSM network.
Price overview:
Senior Tel 2 (€202 incl. VAT):
Senior Tel 2 Plus with GPS (€216 incl. VAT):
Technical specifications :
Telephone Senior Tel 2:
Temperature range: working range from –10°C to +55°C
Storage range: at least –25°C to +80°C
Weight: 92g (with integrated battery)
Dimensions: 116 mm x 42 mm x 21 mm (LxWxH) Operating voltage: 3.3 volts to 4.2 volts (nominal 3.6 volts)
Standby time: min. 72 hours
Talk time: up to 160 min. NOTE: The standby and talk times depend on the local reception situation of the Senior – Tel II
Battery: 1050 mAh
Charging time: 45 mins
Frequency bands: EGSM900 (880 to 960 MHz) DCS1800 (1710 to 1880 MHz) GSM classes: Class 4 (2Watt) for EGSM900 Class 1 (1Watt) for DCS1800
The clock:
Chipset: nRF52832
Display 1.3"TFT colour screen
Image resolution: 240*240dpi
Protection class: IP67
Armbandmaterial: TPU
Accelerometer KX023-1025
Temperature sensor CT1711
Heart rate chip: HX3300
Battery: 240mAh
Working time: 5-7 days
Bluetooth: 5.0
Operating temperature: -10°C-50°C
Included :
Senior Phone-Tel
clock
Wireless inductive charging station with cable and micro USB connector
230 volt dual charger with two USB outputs for charging the Senior Tel device and the watch