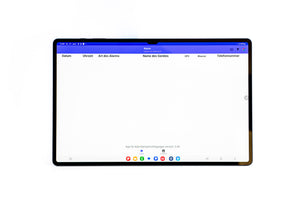 Mobi-Click Deutschland
Personal emergency signal reception center Samsung (screen 14.6' / 5G)
Sale price Price €2.339,54 Regular price
Tax included.
A personal emergency signal reception center (PNEZ-S) monitors, manages and controls 
Personal Emergency Signal Devices (PNG). The control panel receives emergency calls or signals from lone workers who are in an emergency situation. This can be done through various communication channels, e.g. B. phone calls, text messages or emergency apps.

Establishing an emergency signaling center is an important step in ensuring the safety and well-being of people in emergency situations. Ideally, the emergency signaling center should be placed in a location where continuous monitoring and the ability to respond quickly are guaranteed. Suitable locations could be, for example, the porter's office, the operations management office, the control center, plant security or similar facilities.

The head office receives 
all incoming alarm and voice calls, as well as SMS and then reacts accordingly
.
The following alarm types are recognized:
Ruhealarm

Sturzalarm

time alarm
Lagealarm
escape alarm
emergency button
Technical alert
The PNEZ-S (Personal Emergency Signal Reception Center Interface) offers a comprehensive range of functions and information essential for effective monitoring and coordination in an emergency. The following points are part of the PNEZ-S and must be processed and managed accordingly:
Alarm Acknowledgment: When an alarm comes in from the Personal Emergency Signal Triggering Device (PNA device), it is important that the alarm is either acknowledged or deactivated to ensure the situation is dealt with appropriately.

Voice connection with PNA: With just one click, a voice connection can be established between the PNEZ-S and the PNA device to enable direct communication in real time.

GPS position on Google Maps: The PNEZ-S shows the GPS position of the device that triggered the alarm on Google Maps. This allows emergency services to quickly determine the exact location of the person concerned.

Live View of PNA Devices: The PNEZ-S offers a live view that shows active and inactive PNA devices, along with their alarm status and battery status. This allows comprehensive monitoring of the system.

Device status display: The device status can be displayed at the touch of a button or automatically at certain intervals to check the functionality of the PNA devices.

Preview of the device status after self-test: After the self-test of the PNA devices, the PNEZ-S can display a preview of the current device status.

Application update via the server: The PNEZ-S allows the application to be updated on the PNA devices via a dedicated server, provided there is an Internet connection.

Data backup on device reset: In the event of a device reset, all relevant data is stored in your Gmail account and can therefore be restored to ensure smooth operation.

Lone worker usage data: The PNEZ-S collects and stores lone worker usage data, giving you comprehensive insight into the active data of your employees.
The PNEZ-S is thus a powerful and reliable system that ensures the safety and protection of lone workers and enables an efficient response to emergencies. The above functions ensure continuous monitoring and communication in order to provide appropriate help quickly
Technical features:
Screen
- Size 14.6"
- Typ S-Amoled
- Touchscreen, Multi-Touch
- Image resolution 1848 x 2960 pixel
- Screen protection present
Hardware
- Chipset, Qualcomm Snapdragon 8 Gen 1 <4 nm>
- OS Android 12,
- One UI 4.1
- RAM, 8/12/16 GB
- Data storage 128/256/512 GB
- MicroSD, me
Camera
- Main camera, 13MP + 6MP
- Properties, Panorama, HDR, LED flash
- Front camera, 12MP + 12MP , plus HDR
connectivity
- Bluetooth, 5.2, A2DP
- Wi-Fi
- GPS,
- USB, Type-C 2.0
network
- Network, 2G, 3G, 4G, 5G
Battery
- Li-Po 11200 mAh
- Fast charging 45W
Dimensions
- 208,6 x 326,4 x 5,5 mm

More documents:
Product data sheet
operating manual