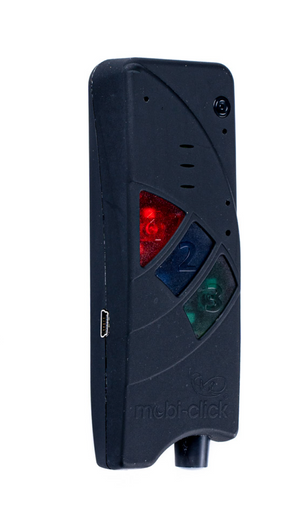 Mobi-Click Deutschland
Mobi Alarm Plus GSM alarm system with emergency call function
Sale price Price $231.00 Regular price
Tax included.
Room surveillance with precise PIR motion sensor
With the mobile alarm system Mobi-Alarm Plus you secure flexibly monitored rooms, entrances, windows and vehicles. You simply place the Mobi-Alarm Plus in the direction of the section of the room that you want to monitor. The precise and extremely sensitive PIR motion sensor registers every movement and alerts you immediately on your mobile phone or smartphone.
Alarm by phone call / SMS
In the event of an alarm, the Mobi-Alarm Plus sends an alarm in the form of an SMS or a call to up to three numbers. For example, if you cannot be reached on your landline network, a call will follow to your cell phone and then to your business phone number. You can determine and change the number to be alarmed and its sequence yourself at any time.
The mobile GSM alarm system Mobi-Alarm Plus reliably and flexibly monitors rooms and vehicles. In addition, it has an emergency call function, which offers senior citizens a plus in security in an emergency.
Emergency call function
By means of an emergency call transmitter, people can send out an emergency call in an emergency so that they can be helped quickly in an emergency.


Make your own impression of the situation after the alarm
The Mobi-Alarm Plus creates a silent connection to you with the alarm. You can now hear what is going on in the monitored room unnoticed and, if necessary, act and call in the police. At the same time, you can avoid unnecessary false positives in this way.
If you value deterrence, the Mobi-Alarm Plus has an external output to which you can connect a siren (available as an accessory), which triggers the alarm with a very loud and high-pitched signal tone.
More security through the emergency call function
Do you often work alone, e.g. at a gas station, a kiosk or in a small shop? Have you also feared a possible robbery?
The Mobi-Alarm Plus protects you. With the emergency call transmitter in the format of a key fob, you can send an alarm message unnoticed at any time in an emergency. After work, you switch on the room monitoring and can go home calmly.
Emergency call device and simple cell phone for seniors
With the handy emergency transmitter, people can call for help immediately in a threatening situation. Seniors who can comfortably carry the emergency transmitter with them in their pocket.
The Mobi-Alarm Plus is also very convenient for making calls. Instead of entering digits or operating menus, simply press one of the three large buttons and dial the stored telephone number.
Maximum mobility and flexibility
The Mobi-Alarm Plus is no bigger than a cell phone and can be used very flexibly in a wide variety of locations. Secure your home, business or even your vehicle by aligning the device under the driver's seat with the footwell. Whether at home or on vacation, you always have your valuables under control with the Mobi-Alarm Plus.
Areas of application
Monitor with the Mobi-Alarm Plus at different locations as required.
flat
House
Caravan, camping
Workshop, studio, shop
Small and medium-sized business
Restaurants, cafes
Caravan, camping
vehicles
Valuables
Remote control / emergency transmitter included
The remote control supplied is used to activate the Mobi-Alarm Plus and as a handy emergency call transmitter.
scope of delivery

Mobi-Alarm Plus-P
remote control
AC charger
operation manual